Description
Review of PANG & PING performance, Amsterdam Fringe Festival 2021
Subject
The Amsterdam Fringe Festival is unique in the Netherlands. Here you can see the newest, craziest and most marginal what can be found in the theater field.
Vincent KoutersSeptember 6, 2021 , 14:04
When the bright pink Fringe flags reappeared in the city in early September, the mailbox filled with messages like 'Will you come and see our emo-kitsch monologue with "real" tears?' and I saw the festival poster with a gender neutral model with disco balls for eyes, I knew: not even a worldwide pandemic can destroy the Amsterdam Fringe Festival. Thank God, because the Fringe is unique in the Netherlands . It is the only theater festival where you can only see things that cannot be seen anywhere else.
Simultaneously with the Dutch Theater Festival , which this week shows 'the best theater performances' of the past season, the Fringe is programming the latest, craziest and most marginal what can be found in the theater field in a variety of halls throughout Amsterdam. At one and a half meters away, these shows have only become more intimate. Because the Fringe artists perform just as easily for 24 people.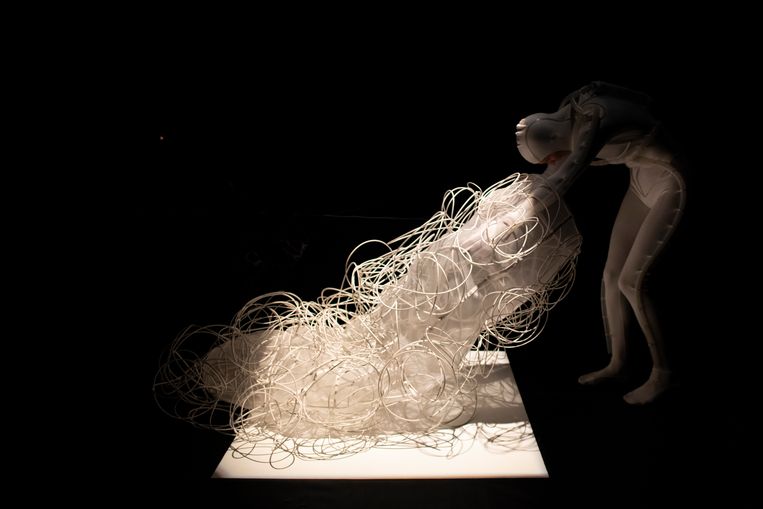 Dancer Lorraine Smith in Pang & Ping by Daphne Karstens at Amsterdam Fringe Festival Image Annelies Verhelst
Such as dancer Lorraine Smith who plays the double bill Pang & Ping by costume designer Daphne Karstens in the Pleintheater in East Amsterdam. Karstens himself calls it a 'wearable sculpture project'. It is in fact a wonderful dance performance, in which Smith is hidden under large triangular sculptures that are draped in various shapes around her body. In the second part, she wears a white costume of cords and tubes from which smoke comes out. She is reminiscent of a humanoid robot. It is man as an intermediate form. Typical Fringe this, theater you didn't know you were waiting for.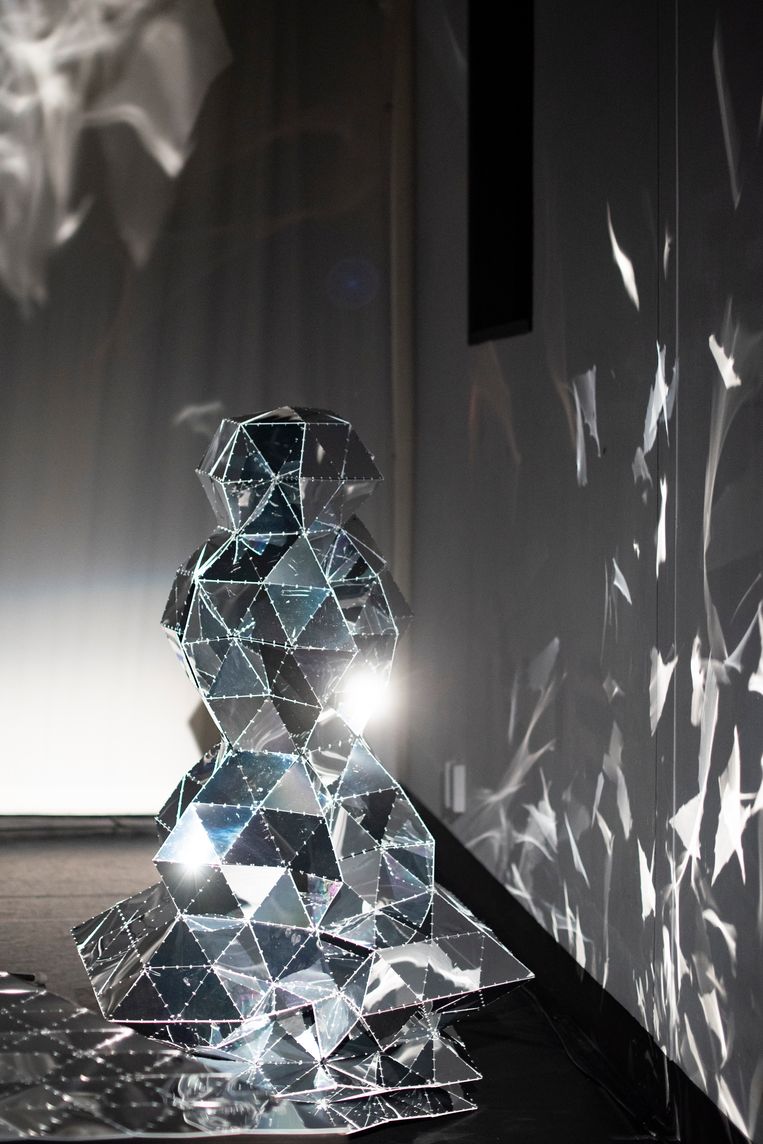 Part one of Ping & Pang, Image Annelies Verhelst
And so there is much more next week. A quick look at the website tells us the existence of 'a performance workshop about success', 'an erotic pilgrimage', 'an investigation into self-touch,' a performance about 'all the funniest things associated with a miscarriage', 'melancholic mime with glitter', a 'trippy physical poem' and of course Annica Muller's yoga theater .
At the opening of the festival, last Thursday evening in theater De Brakke Grond, outgoing festival director Aukje Hoogte recalls the past year, in which the ongoing crisis has begun to take its toll. In her speech she emphasizes the importance of art and experiment. 'Precisely because we all don't know how long we will remain in the obscurity, it is important to be allowed to try, to give shape to that fog, to conduct the experiment in a well-considered way.'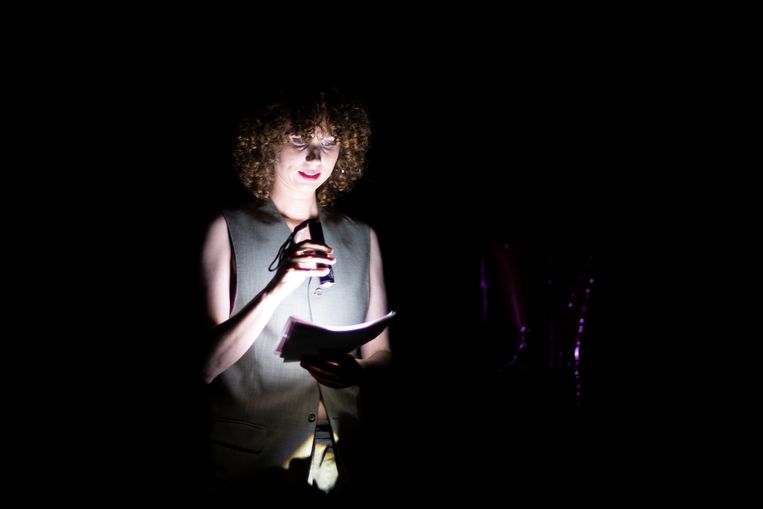 Aukje Hoogte during the opening of Amsterdam Fringe Festival. Image Annelies Verhelst
She also has a message for Mark Rutte: 'Open your eyes, look into those disco ball eyes, and see how the Fringemakers project their glittering visions of the future. Whoever starts with the unknown, ends up with what he didn't think was possible.'
A bit of vision is something we all long for, and at the Fringe festival you get it in containers.
For example, also in the performance Golden Mountains by director and writer Nina-Elisa Euson in Podium Mozaïek in Amsterdam-West. In it, players Ferhat Kaplan and Yeliz Dogan, dressed in obligatory Adidas uniforms, cheerfully and infectiously tell 'the history of the Lower Turk'. They start with the first generation of guest workers who were promised golden mountains if they came to the Netherlands. But once they got here, they found a cold, rainy country, where it was hard work in nasty factories. What happens next is amazingly complex, uncomfortable and fun too.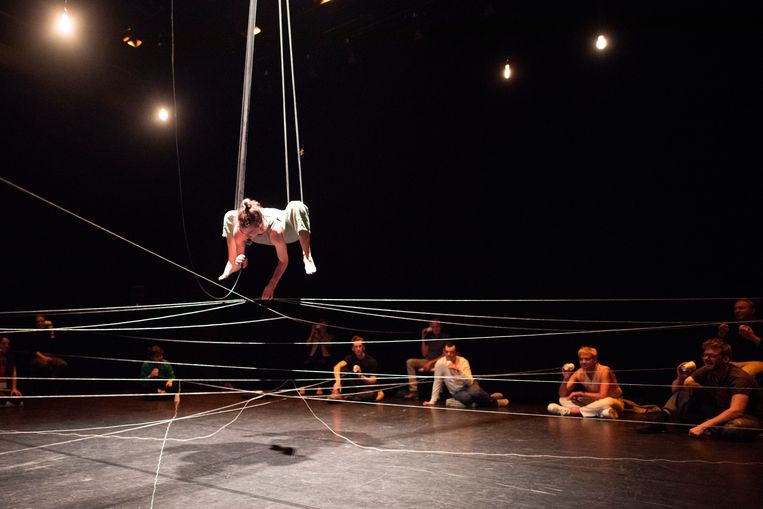 A Circle of Exchange by Erin Skye at Amsterdam Fringe Festival. Image Annelies Verhelst
In CC Amstel, elsewhere in the city, Australian Erin Skye meanwhile plays her genre-defying ASMR circus performance A Circle of Exchange . For those who can tolerate whispering, this is a special experience. Spectators sit around Skye, who hangs upside down from two loops from the ceiling. While she performs acrobatics, she instructs us in a whisper to talk to the spectator opposite us via a cup telephone (two coffee cups connected with a taut rope). The performance is about meeting, concentration and relaxation. One takes it seriously, the other laughs. It does not matter; anyway you'll be outside with a smile on your face afterwards.
Related content
TeesRep

Research output: Non-textual form › Performance
Press/Media

Press/Media: Press / Media